Top.gg 2021 Wrapped
2021 was a rollercoaster - let's recap on what we've achieved at Top.gg this year.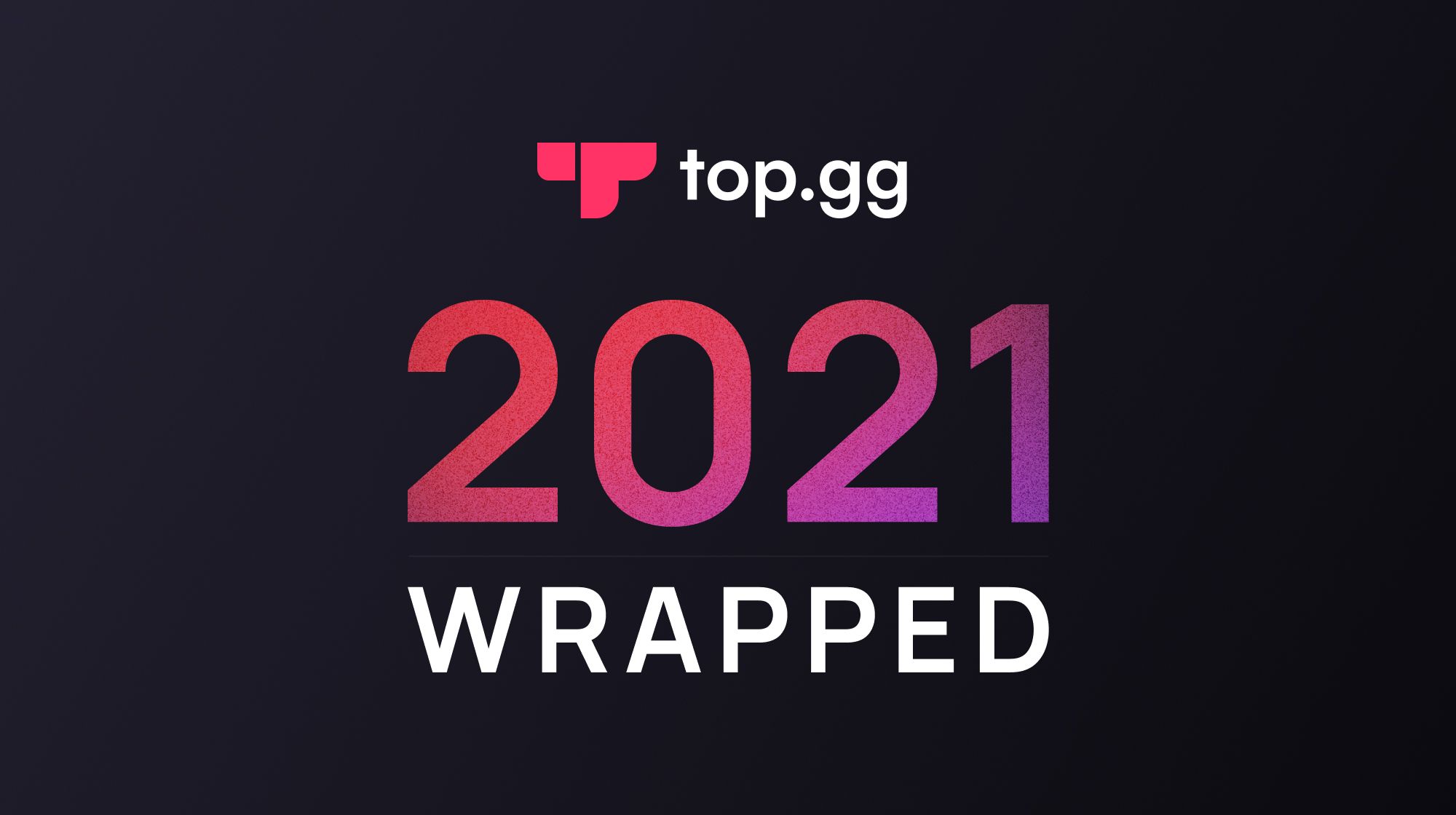 Over the past 6 months, we've made significant progress at Top.gg from revamping our user interface and user experience to shipping improvements and squashing bugs. We're excited to share a recap of everything we've accomplished in this short period of time in our progress towards achieving our mission & vision.  

In July, we introduced our new mission and vision for Top.gg. Our mission is that we are here to make the metaverse accessible and our vision is to be the #1 platform for communities to be discovered, empower them, and accelerate their growth.

A New Look and Brand
As our first step to achieving our new mission and vision, we cleaned up our look and brand with our site redesign and our new logo.
Here's what Top.gg looks like today:
And, here's what it looked like almost 6 months ago in June 2021:
As you can see above, we've utilized vibrant colors to redefine our brand and visual identity. The look and feel of our site have also vastly improved, from the seamlessly implemented animations, to the coherence in the application of our branding; portraying a more modern look. This redesign was a long-term labor of love and effort from our team. Apart from implementing a new sleek look and feel, we improved our user experience across site navigation, search, auctions and advertising. Highlights include removing banner ads, switching to a list view for bots and servers instead of a grid view, adding a new search bar and infinite scrolling, and improving the voting flow. We also introduced new navigation in our "Navatar" menu where any user can click on their profile picture to adjust language, select colors, switch between light and dark mode and change other settings.

A Dive into Localisation
Our community comes from all over the world —  from various backgrounds and a vast amount of cultures. Language and localisation have been a top ask from our diverse community. We added four different languages in addition to English based on the most popular regions of our general user base- German, French, Hindi, and Turkish. Thank you to our volunteers for helping make these translations a reality through our Community Translator and Proofreader Program!
You Called, We Listened: Teams
One of the biggest pain points for users was our Top.gg teams feature. The purpose of the Teams feature is to allow both Discord server and Discord bot owners to easily add users who collaborated on a project with varying levels of responsibilities and permissions; however, many bugs have persisted since the initial rollout of the Top.gg teams feature.  Earlier this month, we gave teams a huge revamp. We've taken into consideration your feedback and are happy to share that we've implemented many improvements. We added new features like the Team profile page and also fixed known issues which include permission and error handling, having the ability to leave and delete a team, and adding Discord servers to a team.
Adding your Server is Easier than Ever
We made it much easier to add your Discord server to Top.gg so any server owners can boost growth and discovery for their communities. By simplifying the experience to just four easy steps with clear instructions and messaging, we've increased the publishing rate of servers to Top.gg by 32x. Thank you again to all of the Discord server owners in our community that provided us with suggestions and feedback to improve this flow.
Auctions for All: It's Finally Out!
As you may already know, auctions, our advertising feature on Top.gg, has been in alpha/beta testing for a long period of time. During the testing period, auctions access was gated behind a manual approval form and review process which could take up to one to two weeks for users to gain access.  Now, everyone can access auctions directly and automatically have their bidding limits increased with each successful purchase.  As a next step, we'll continue rolling out our CPM Bidding Experiments to all Top.gg auctions in early 2022.
Keeping Our Platform Safe
At Top.gg one of our biggest priorities is to create a safe experience for users of all age groups when they are browsing or searching for communities on our platform.  We launched a new Safety Filter where servers that are suited for more mature audiences are blocked for all users by default. Before building this feature, we gathered significant user feedback regarding discovery session experiences on Top.gg and this was one of the top requests. This feature will empower users to find communities fitting to their expectations. This option is now available when opening the navigation bar when tapping your icon in the top right corner. By default, the filter will be on for all users and to disable it requires acknowledgement that a user is age 18 or older.
Investing in our Technical Foundation
In addition to launching new features and improving our core product, our small but mighty team has also been hard at work investing in our tech foundation, steadily chipping away at tech debt and smashing bugs. We've squashed over 125+ bugs in the past four months. We've been improving our backend infrastructure by migrating to GoogleCloud, continuing to move our data to PostgreSQL, improving our frontend architecture and introducing feature flags. We understand that there are still many known issues to fix and appreciate your patience as we continue to grow our team and work through them!

Prioritising User Experience
At Top.gg, one of our biggest priorities is user experience - simply put, we value user feedback from our community. In the past six months, we've invested significant time in collecting feedback from the community through a series of surveys on different topics - from auctions and teams to discovery and our redesign and hosted a series of brainstorming sessions with our bot reviewers, moderators, and community managers. In early December, we released an official way for users to officially provide feedback to us through our public feedback page at feedback.top.gg. We'd love to hear your ideas and suggestions for improving and innovating the Top.gg product and community! We're committed to supporting our community of Top.gg users and actively working on adding more self-help articles to support.top.gg.

Top.gg Turns Five
We celebrated Top.gg's fifth anniversary with a series of fun community events which included a Chilly Hackathon, a Meme Contest, Giveaways, Career Panels for Engineering, Product Management and Design, a League Anniversary Tournament and Quarterly AMAs with our CEO, Kristin Chen. Thank you to everyone who participated and took part in our celebration!  
Last but not least, another highlight of this past year was launching this very blog! Stay tuned for more exciting product launches in 2022. Join us in our Top.gg Discord Server and follow us on Twitter (@JoinTop.gg) and LinkedIn to keep up to date with all of our latest announcements.
Thank you for sticking with us through the rollercoaster that was 2021. We're excited to continue this adventure in the metaverse with you in 2022.